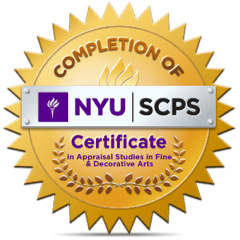 We provide both estate and insurance appraisals and can work with individuals, executors, lawyers and accountants.
When preparing written appraisals, we write them in accord with the Valuation Standards and Professional Appraisal Practices as outlined by the Appraisal Foundation in the 2014-2015 Uniform Standards of Professional Appraisal Practice (USPAP) and the Principles of Practice and the Code Ethics of the Appraisers Association of America. After receiving her Certificate in Appraisal Studies through NYU/ SCPS, Anneliese O'Hea consistently updates her USPAP qualification every two years.
Using our knowledge and vast professional network, we also have the ability to broker items for you into auction or via private sale. This can be determined on an individual basis.